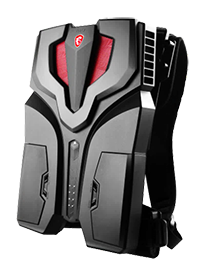 [MSI, HQ] MSI will be at the French main gaming event, the Paris Games Week, taking place from October 27th to 31st (Hall 3, booth n°A015). During this crazy week, visitors will be able to test the latest Gaming products – notebooks, desktops, components and peripherals.
More importantly, visitors will be able to test, in exclusivity in Europe, the VR One, the MSI VR Backpack developed in close collaboration with Intel. This VR backpack is the world's lightest and thinnest and thanks to the high performances of its Intel® Core™ i7 6820HK CPU, it allows the player to be fully immerged in its game.
The VR One Backpack will be showcased on a dedicated VR one with other last generation MSI products: the GT83VR & GT73VR Gaming notebooks, the Aegis Ti Gaming desktop and a gaming desktop built by Infomax Paris, equipped with a Z170A GAMING PRO CARBON motherboard and a GeForce® GTX 10 graphics card.
Every day, MSI will organize League of Legends 5v5 challenges. Visitors can play freely but some games will be more competitive: winners will be rewarded with MSI goodies. There will be another way to get goodies. On the booth, there will be 4 stands where products will be presented. Visitors will have to go on each stand, listen to the product's presentation and get a stamp on the flyer. Once they've collected all the stamps, they will get a MSI goodies.
To liven up the booth, a cosplayer will come to MSI Booth to show her best outfit and the famous youtuber Tartinex will come to meet his fans. Last but not least, visitors will enjoy exclusive offers with our partners LDLC on Aegis, Aegis Ti and Aegis X, and on high-end PC configurations specially build by Infomax Paris.
If you want more details about our participation in the Paris Games Week, please visit our dedicated landing page : http://event.msi.com/2016/PGW/index.html
GT83VR & GT73VR
GT83VR and GT73VR are part of the latest gaming notebooks series from MSI. They both are equipped with a GeForce® GTX 10 series graphics card and are VR compatible. For their cooling, the Cooler Boost technology keeps the temperature at a low level in order to get ultimate gaming performances.
Aegis TI
The Aegis Ti is a gaming desktop equipped with a 6th generation Intel i7 CPU and a GeForce® GTX 1080 graphics card. The front HDMI port makes the VR devices use easier as the gamer will not have to reach the rear part of the desktop.
GeForce GTX 1080 30th Anniversary Edition
The GeForce® GTX 1080 30th Anniversary Edition graphics card is a milestone which represents 30 years of innovation and excellence in gaming hardware. It's equipped with a water cooling system to assure a perfect cooling.
X99A GAMING PRO CARBON
Made with carbon fiber, this motherboard is very light but this does not prevent her to offer ultimate performances. The Mystic Light feature will give the possibility to easily customize its colors.
GK-701 GAMING keyboard
This mechanical keyboard is built on Cherry MX brown tactile switches which provides a great feedback and sensitive key responsiveness.
Interceptor DS300 mouse
The Interceptor DS300 is designed to ensure the most comfortable right-handed fit for gamers. It is built using durable materials to last through countless hours of intensive gaming, featuring high-quality OMRON switches and a braided cable with gold-plated connector.
MSI VR READY:
http://vr.msi.com
MSI GAMING Products:
http://gaming.msi.com
MSI Facebook:
https://www.facebook.com/MSIHQFANCLUB
MSI Twitter:
https://twitter.com/msitweets